Google Blog Search just had feature bump with new features like hot queries and latest posts. If your day starts with iGoogle page – how about adding "Google Blog Search" gadget to your iGoogle startpage? Using this gadget your can view and browse latest stories from blogsphere, powered by Google blog search.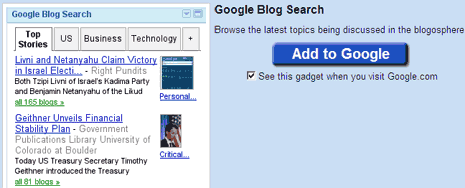 Related – Celebrity iGoogle homepages, clone your favorite
Within widget window with tabbed interface you can see latest stories from different categories from around the world, updated all the time. You can also customize the gadget to show only topics of your interest. Grab the Google Blog search gadget to browse latest topics from blogsphere in a small widget window on iGoogle page without having to jump pages!