Google Chrome browser has (in-built) plugins installed to support various web technologies like Silverlight, Shockwave Flash, Java, Adobe Acrobat and many more. There is no default user interface button or option to access list of such plugins. Post Chrome 5.x beta, you can view and disable any Chrome plugin with ease using following method.
View & Disable Chrome plugins
1. Launch Google Chrome web browser.
2. Type about:plugins in address bar and hit the Enter key.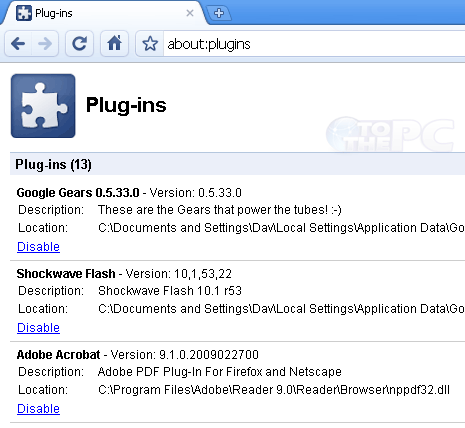 3. You can see list of plugins installed for your Chrome browser.
4. Click Disable button to disable any specific plugin.
Listing may include plugins like: Google Gears, Shockwave Flash, Adobe Acrobat, Java Deployment Toolkit, Java Platform, Microsoft DRM, Google Update, Silverlight Plug-In, Windows Presentation Foundation. [Thanks Rak]