Its that time of the year to search and spread love. We have already seen cool way to create Valentine Day video greeting card made from your personal photos. And of course, those lovely Valentine Day wallpapers for desktop drool. Here are few cool web services to make cool flash ecards with your photo.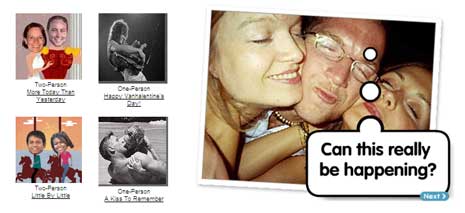 BubbleSnap – This is really cool and easy way to create a quick love filled ecard. Just upload your image and start adding surprising bubbles with your love message. One speech bubble appear at one time and you need to click next to view other one. You can easily cook up lovely story with series of speech bubbles on your photo.
HD Greetings – There is cool collection of Valentine Day flash ecards. Click on personalize to add your photos, words filled with your love and even select audio track for the card. Click on preview (it may take few mins) and you are ready send personalized Valentine day flash ecard.
MushyGushy – Sticking to tradition of no download, no installs – MushyGushy web service allows you to create mushy flash ecards with your own photos. Just browse and select the template and start customizing with your photo. You need create a free account to get done with the process (little effort to spread your love, ok?).
If you don't mind installing stuff on your computer, try Smilebox– looks interesting (I did not try this though!). If you know any other web app or tool to create lovely personalized Valentine ecard – give us a shout !