Youtube videos are often seen embedded on posts and articles on number of blogs and website. Embedded Youtube Videos cannot be viewed full screen and you need to click through to Youtube website for full screen viewing.
Well, not any more with VTubeTools. It allows you to customize embed code of any Youtube video with an option to view video full screen even when embedded on a third party website or blog.
There is more, it offer loads of customization options. To get started, grab the Video ID of Youtube Video, for example (http://www.youtube.com/watch?v=6mjwyLp6OiM) here 6mjwyLp6OiM is video ID.
Enter Video ID and start playing with customization options which include:
Set video to Autoplay on page load.
Customize dimensions of video window.
Choose player color, enter desired color codes.
Full screen and border enabled or disabled.
Display related videos.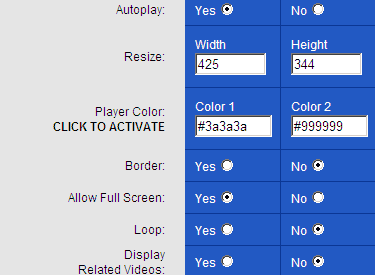 Besides above, you can customize the skin or background of video window. You can also set to load high quality video by default.
Checkout VTubeTools, an interesting Youtube Video customization service in times when most Youtube services end up at option to download Youtube Videos (VTubeTools also support video download!).