Facebook is now giving more options to users for controlling activity data generated while using Facebook. Lot of users search for specific things using search box at the top of the Facebook website. Ideally, Facebook records history of every search activity in your account, just like Google Web Search stores history of web searches in your Google account. Now besides viewing your complete search history, you can also delete and remove specific search history details from your Facebook account.
Remove Search history details from Facebook account
1. Once you login into Facebook account, click on your profile name at top left to open your Facebook profile page. Then click on Activity Log button at top right part of the your profile in the timeline format.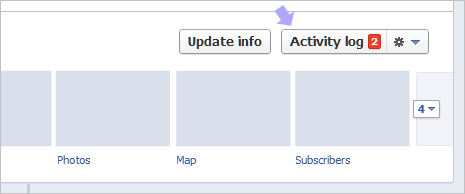 2. By default, activity log page will show details of every part of Facebook usage including posts, comments, likes etc. Click to select "Search" option from drop down menu at top right. Note: If this option is not available, check after few days as Facebook is rolling out this feature to all users very soon.
3. For specific search entry, click on the (round) icon next to it and then click Remove button. This will delete that specific search entry from the history. You may also click the Clear Searches button at the top of your activity log to clear all of your searches at once.
It should be noted that "Activity Log" (including Search history) is private and cannot by seen by other users. So even if you do not delete Search History, it cannot be seen by other users – unless your Facebook account is hacked and other person has your account login details. [source]