Is your Apple Magic Trackpad giving hard time resulting in unintentional clicking? Using Magic Trackpad may be causing unintentional highlighting and selection of areas that you do not intend to. You can easily check on this behaviour by disabling 'Dragging' feature in the Apple Magic Trackpad.
Turn off Dragging to prevent unintentional clicks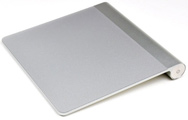 1. First, goto Apple > System Preferences
2. Then select Trackpad to access settings for your Apple Magic Trackpad.
3. Click to deselect (no tick) next to dragging option.
This will disable dragging and should fix issue of Magic Trackpad causing unintentional selecting and clicking. If issue persists, you can attempt double tapping the trackpad to undo or release previous unintentional selection.