Unlike many electronic devices, battery in iPad in not user accessible. iPad has an internal rechargeable battery that can only be replaced by an Apple Authorized Service Provider. Sticking to the basic routine of any device with battery, you need to charge the battery when the power level is low.
Battery charge level display

You can see the battery charge status from battery icons displayed at the upper right corner of the status bar. You can easily identify if the battery is charging or already charged.
How to charge battery on iPad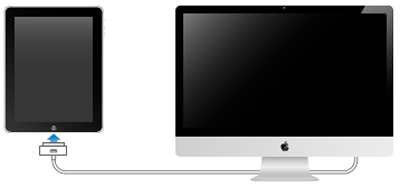 Connect your iPad to a power outlet using the included Dock Connector to USB Cable and 10W USB power adapter. Other method involes connecting ipad to USB ports on a computer system.
iPad battery not charging properly

"… my ipad is not charging even when plugged correctly for charging?" This may happen due to several reasons. You need to note following while charging ipad battery:
The iPad battery may drain instead of charge if iPad is connected to a PC, to a computer that's turned off or is in sleep or standby mode, to a USB hub, or to the USB port on a keyboard.
Ipad will charge slowly on system while syncing. Problem may occur, if ipad is connected to older PC for charging (they have lower powered USB ports).
So, while charging iPad through USB method – make sure host computer is not on standby, sleep or hibernation mode. Also, prefer to use other method of charging through direct connection to power outlet using 10W USB power adapter.