Are you tired of searching for subtitles for a particular movie over the internet? Here is a simple way to download movie subtitles in few clicks within player. Also, you don't have to worry about the data transfer that occurs during browsing for subtitles because this technique will nullify all the bandwidth usage.  You will need K-Lite Codec Pack [Freeware tool] and an active internet connection.
Download & display movie subtitles
1. Download K-Lite Codec Pack and install the Codec pack.
2. Open movie in the media player provided by the package.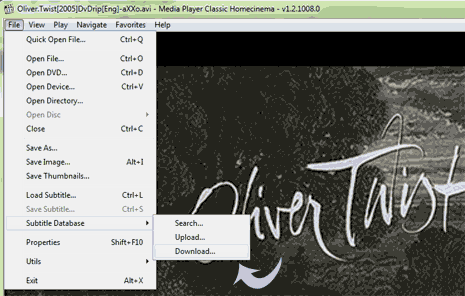 3. Now go to File > Subtitle Database & then click on "Download".
4. Subtitles will be searched into a pallet opened inside the player for various languages.
5. Select desired subtitle & click 'Download & Open' button.
The movie will start with subtitles embedded at the bottom of the player. Now you can enjoy any movie with subtitles in Windows media player classic.