Windows Media Player is one cool way to play audio and video files on the computer. It comes bundled with Windows operating system. Windows Vista has Windows Media Player 11 installed by default. Windows Media Player 12 should come bundled with upcoming Microsoft operating system 'Windows 7'.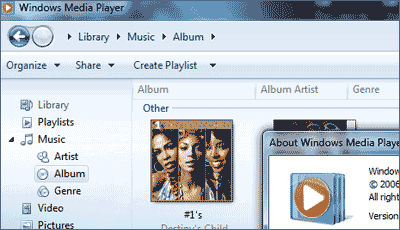 However, you can test drive and use Windows Media Player12 on your Vista computer (not XP). Misaki2009 @ devianart has ported Windows Media Player 12 of Windows7 for Windows Vista. After you download, you need to copy one file and one folder and its all done.
Copy wmploc.dll in C:\Windows\System32
Copy Windows Media Player folder to C:\Program Files
Just copy above file / folder and you are all set to use Windows Media Player12 on Vista. Please note: this is not an official release, make sure you create a restore point before trying this out – use discretion. Alternatively, you can install Windows Media Player12 theme on Media Player11 in Vista.