10000 High Quality Fonts in one place! Yeah, that is what very sleek font directory 'Fawnt' aims to provide. It is an excellent resource for designers, developers, and anyone that loves free fonts.
Fawnt lists beautiful fonts in nice speech bubbles coupled with a scrollable interface to make browsing easy. Yes the collection is huge, but the best part is ease of viewing different fonts on the website.
Homepage lists top55 fonts in big preview images (No foolish clicking to preview fonts!). Currently collection has 9348 fonts & growing, all with large previews, character maps and a customisable preview.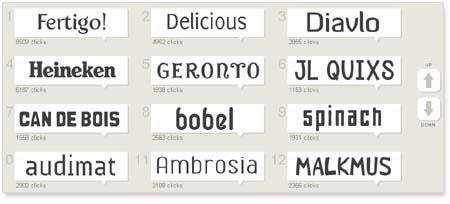 Fawnt: Website – Browse Fonts – Categories
You can browse fonts by category or alphabetically or use the search function to find a specific free font. A very good resource, in case you are look out for some cool fonts to cater to your possible design needs. Very neat!