Kaspersky is one of leading AntiVirus and security software to protect computer from malicious threats. Now even Mac users can enjoy Kaspersky protection from viruses and spyware with all new Kaspersky for Mac. It helps protect your music, photos, files and sensitive information and prevent you passing malware threats on to friends and colleagues when exchanging information with other types of computers.

Features of Kaspersky AntiVirus for Mac
1. Quick & fast with only 1% CPU impact on your Mac performance.
2. Real time scan of files, download and mail attachments.
3. Familiar Mac-style appearance and operation.
4. Automatic and regular updates for updated protection.
5. Robust Kaspersky support and service.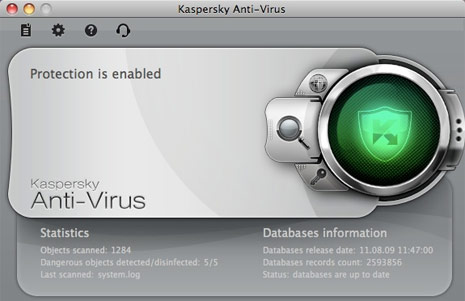 Download Kaspersky AntiVirus for Mac [49MB, trial version available in English, Russian, French, German and Italian]. You can also download product documentation from the download page for further reading on software description. Try Kaspersky for MAC and buy it for extended protection.