Do you want to burn data on DVD dics with little style? DVD Styler is cross platform free DVD authoring freeware application. It allows you to create professional looking DVDs which are playable on any standalone DVD player. You can also make individually designed DVD menus for content being burnt on a DVD dics.
Features of DVD Styler
1. Allows creation & burning of DVD video with interactive menus.
2. Supports easy to use drag & drop functionality.
3. It allows using MPEG and VOB files without re-encoding.
4. You can put files with different audio/video format on one DVD.
5. It allows import of image file for background.
6. It supports placing of buttons, text, images and other graphic objects anywhere on the menu screen.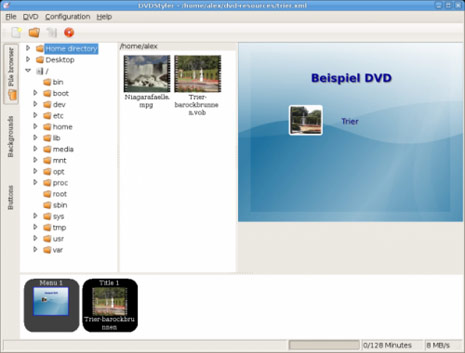 Besides cool menu creation options, it support majority of formats like: AVI, MOV, MP4, MPEG, OGG, WMV, MPEG-2, MPEG-4, DivX, Xvid, MP2, MP3, AC-3 and other audio and video formats. Make auto play DVDs with stylish menus, download DVD Styler