Newer Firefox 4.0 beta has neater looking universal access "Firefox" button. Using this single button you can access various options like print, save, history, help – which otherwise are displayed in menu bar at the top. If you still prefer the good old classic menu bar, you can easily remove the Firefox button and display full traditional menu bar in Firefox browser.
Temporary Menu bar with shortcut key
While browsing any website, press ALT key. The classic menu bar will appear below the "Firefox button" temporarily allowing you to access menu bar options.
Permanent Menu bar & remove Firefox button
1. Launch Firefox 4.0 or above.
2. Click Firefox button and then goto Options > Menu Bar in the pop-up menu.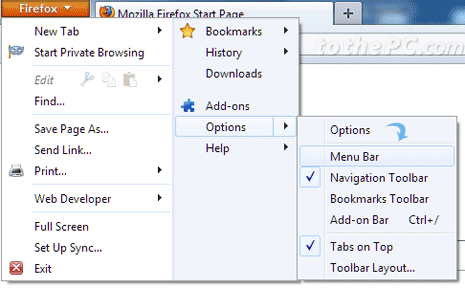 This will activate Menu bar in Firefox 4 browser. You should able to see old style classic menu bar at top of Firefox 4 browser.
Restore Firefox button & remove Menu bar
1. Open Firefox browser with classic Menu bar display.
2. Goto View > Toolbars
3. Click to uncheck "Menu Bar" option. Firefox button will re-appear and classic Menu Bar will be removed.