Adobe and Yahoo has launched another option for bloggers and content creators to earn money from PDF content. In case your blog/site provide users content in the form of downloadable PDF documents then 'Ads for Adobe PDF' is good option worth trying.
By Using this service you can show Yahoo contentxual ads in your PDF documents. Whole process is easy, you do not need to have any direct relationship with advertisers, as Yahoo will manage the same.
Procedure: You need to upload the PDF document to register it for showing ads. Document is analysed and relevant ads related to content are matche. You can also block competitor ads, just like in Google Adsense. Here is how ads look in a PDF document.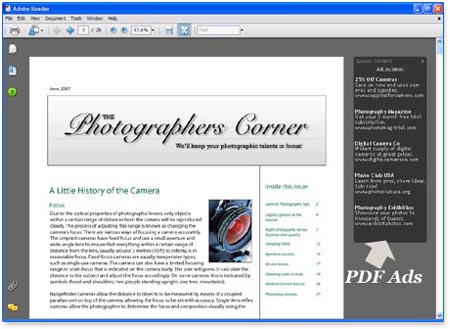 To summarize, 3 steps are invloved:
Apply for an account.
Upload and register the PDF content.
Distribute the registered PDF content via your blog/site.
Money: You earn money when users click ads shown in your PDF document. As Amit has pointed out, currently ads will only appear in Online mode of document. Ads will not appear in offline mode or when the PDF document is printed.
Ads for Adobe PDF: Website – Click here to apply for the program
Looks like good option to monetize PDF content like: News articles, Journals, Whitepapers, reprints, technical articles, what say?