Bored of single desktop image? Well, you can spice up your desktop with multiple images embeded and floating on different parts of desktop wallpaper using 'Deaktop Takeover'.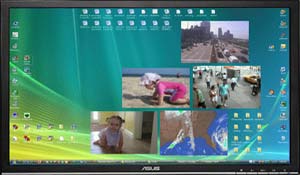 This free software allows you to embed images on desktop wallpaper with simple 'drag and drop' routine. No image editing skills required, get started by selecting pictures from compuer, online photo albums or webcam.
You can also set up rotations for the whole background or individual picture changeover. Each rotation can be configured with its own delay interval.
Download Desktop takeover for XP & Vista [link] to spice up desktop wallpapers with number of images sparyed around. You can also revert back to single desktop wallpaper, when you get bored of multiple images on desktop!