Google has released Moon feature in Google Earth to mark the 40th anniversary of the Apollo 11 landing. It allows you to experience Apollo stories out of the history books in interactive 3D environment. To get stated, download or upgrade to Google Earth 5.0 and then click on planet button on the top toolbar of Google Earth, and choose Moon. This new 'Moon' feature on Google Earth allows you to: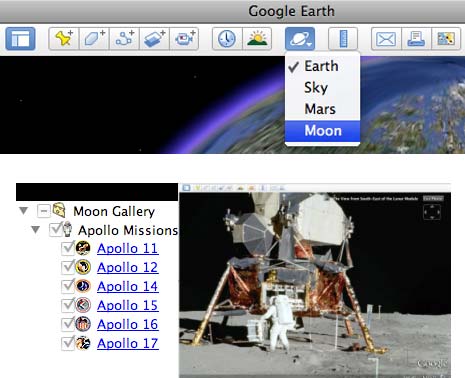 – Take tours of landing sites, narrated by Apollo astronauts.
– View 3D models of landed spacecraft.
– Zoom into 360-degree photos to see astronauts' footprints.
– Watch rare TV footage of the Apollo missions.
There are lot of rare images and videos to make Moon exploration more interesting and interactive. Download Google Earth [via] and explore moon like never before. Here is video teaser of Man on the Moon, it is interesting and nostalgic to the core.