Virus on computer can easily make it do some strange things with different pop-up errors, blue screen of death and nasty error messages on black screen. This for sure is scary for any Windows user. How about faking all this for real fun with friends? This is possible using "The Ultimate Virus" fake prank program.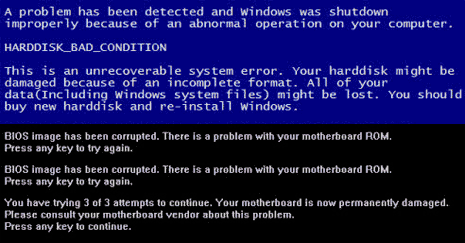 Just download, unzip and double click to launch this ultimate virus prank program. First screen has 3 options: format hard disk, delete windows folder, delete all contents of disk. Select either of not so comforting option and see the fake virus fun play on the computer. This follows blue screen of death with heavy loaded errors on black screen.
There is no way to exit, after few minutes of fun you get comforting button to exit this prank application. Get dose of fake virus fun which looks all real to surprise friends with The Ultimate Virus prank program. Have fun!
More here – Windows Fun by showing joke, pranky error messages