It is always a great feeling to have your custom ringtone playing when your mobile phone is ringing. I bet most users hate default ringtones set by their phone manufacturer. There are quite many web applications where you can create ringtones online. But the problem is, not all of them are free and some do not support various music file types, so we came up with a list of top web applications to create ringtones.
Important points before creating custom ringtones
When choosing a way to create ringtones for your mobile phone, it is important to follow a few general rules.  First, we do not recommend buying or downloading any software on your computer. There is really no need in having a standalone program for ringtones creation installed on your computer.
Second, try to stick to online web ringtone creator applications only. They are pretty flexible in terms of customization options and best of all, they are 100% free. Lastly, make sure you convert and download ringtones in audio formats your phone supports. You can find out that information online, by researching audio file types your mobile phone supports.
Online tools to create Custom Ringtons on internet
1.  Mp3mer  – This is a great place for if you are looking to create custom ringtones online. They support all kinds of file formats and you can download ringtones straight to your computer, e-mail or send it straight to your phone. In addition to that, they have a wide list of customization options you can choose from, like for example you can edit bass levels, fade settings and much more. If you really want some professional customization options, be sure to select "Expert Mode" on Mp3mer.com.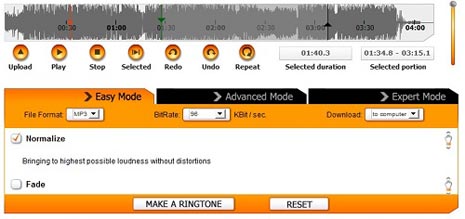 2. RingBuz – Unlike some other web applications, RingBuz.com does not require you to register in order convert your favorite track into ringtone. It is absolutely free of charge service and supports most commonly used audio formats. Also keep in mind that RingBuz.com has a maximum file size limit of 10 megabytes, which in our opinion should be increased.

3. MeloFania – It is by far the most simple web application for creating ringtones online. You simply upload your favorite track, cut it how you want and download your new ringtone. This service also provides you with essential customization options and supports all cell phones. Site features really sleek design and is absolutely free service to use. On top of that, you can search and download some pre-created ringtones on the site. To get started, just click on "Upload" icon and select file you want to upload. Be sure to check out MeloFania.com ringtone creator.
4. ToneBee – It is another great free web application to make your custom ringtones online, except for one thing – you are required to go through a registration process for creating ringtones at ToneBee.com. Even though sign up process is really easy, we still feel that this requirement isn't needed and can only scare away visitors. Other than that, it is a pretty solid online ringtone creator.

5. Video2Ringtone – This one is really handy if you have your favorite tracks on YouTube you would want to use as your phone ringtone. Basically, it is a free online YouTube video converter. You simply enter YouTube URL of track you prefer. Once video is fully loaded, you will be able to choose file format your phone supports and download ringtone to your computer. Video2Ringtone.com is especially good for people who don't have an audio file on their PC they could upload, so they can always find file on YouTube first and use this service to create ringtone for their mobile phone.

Guest Article by Aurel Dopyera I am engineering student from Slovakia. I am also freelancer and interested in web programming, Internet marketing strategies and gadgets.