If you have a Tutorials wordpress blog and looking for a makeover – then "Tutorial Theme"might just do the trick for you. Jai of BlogOhBlog has released this new free wordpress theme specifically for Tutorials website.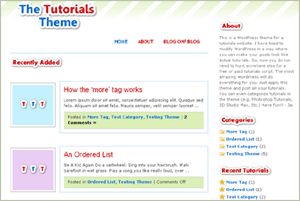 First impression– besides loading quickly, theme looks very neat with my favorite background color WHITE. This theme uses the custom fields to display the thumbnails in front of your posts on the homepage. You can implement this by using custom fields box located at the bottom of the admin section.
Basic elements of  theme like recent posts, recent comments and categories are nicely placed on right sidebar. You can find full installation details in readme file,.
As for theme, it for sure is a nice alternative for a Tutorials or lessons based blog. Very basic looks and keep your focus on actual content (that is what you want on a Tutorials website!) DEMO – Download