Unlike Blogger, WordPress blogging platform has loads of functionality with refined looks. Blogger now has option to embed comment form on post page but look-wise it is pretty ordinary. You cannot customize it or add comment fields like on WordPress powered blogs. Well, you can do that using 3rd party commenting system on blogger like Intense Debate and Disqus.
Besides the looks, it adds more functionality to commenting system on your Blogger blog. It adds featuring like threaded comment, subscribe by email, widgets, Twitter, RSS tracking and above all look & feel of more refined WordPress like comment box. Procedure to add Intense Debate or Disqus comment box to Blogger blog is eaysy and similar. It does not involve any manual code editing, everything is automated.
1. Login into Blogger blog, goto Layout > HTML.
2. Download your existing Blogger blog template.
3. Create new account at Disqus or Intense Debate and upload the downloaded template.
4. You will receive modified template, paste / upload it on your blogger blog under edit HTML option.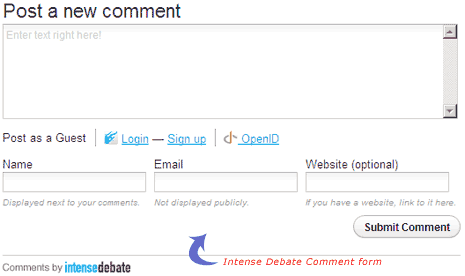 See detailed procedure to add Disqus comment box to Blogger blog. Give a makeover to your Blogger blog with all new comment box look-wise and feature-wise using Intense Debate or Disqus commenting system. One more way to make your Blogger blog PRO.