Favicon is a small icon shown next to site URL in the address bar. In Blogger, by default orange colored blogger icon is shown as favicon. You can make your blog stand out by using your own customized icon. Before you implement the code, you can grab or make your own favicons: Make Favicons – Browse Favicons
Use Favicon feature in 'Blogger in Draft' [New method]
Blogger has now officially launched feature that allows you to add favicon image with simple browse, select and upload routine. Here are simple steps to get going:
1. Open blogger in draft (http://draft.blogger.com) and login into your Blogger account.
2. Then goto Dashboard > Design option. Look for Favicon option on the Page Elements tab (or from the Layout tab if you are using the new user interface).

3. Then click Edit on the new "Favicon" setting above the navbar element. A new window will open, there you can select favicon image stored on your computer.
As of now this feature only support ico format files for favicons. If you want to use normal JPEG or GIF images as favicon in ico format, then use free image into ico tools for converting images into ICO icon format required for favicon images.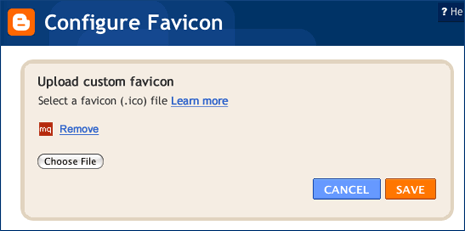 4. After you have selected favicon image, click Save button. Blogger will automatically resize and upload the selected favicon image to your blog.
Your new favicon should start appearing in some time. If the favicon on your Blogger blog does not update, make sure you clear all history from web browser and then check for it. [via Blogger Blog]
Manual method to add Favicon to Blogger blog
To get started, first you need to backup your Blogger template: Click on 'Layout' > 'Edit HTML' and then click on 'download full template' to save it on your computer. Now perform following steps to a change favicon in your Blogger blog:

1. Click on 'Layout' > 'Edit HTML'
2. Then add following code after <head>
<link href='http://www.URL.com/favicon.ico' rel='shortcut icon'/>

<link href='http://www.URL.com/favicon.ico' rel='icon'/>
Above http://www.URL.com is the web address or location where your favicon is stored (hosted). You can upload favicon to Googlepages (now Closed) or on any free image hosting websites that support favicons upload.
'favicon.ico' is the name of your favicon file. You can use any name like myfavicon.ico and so on. After adding above code, update the http://www.URL.com and favicon.ico in the code. Then click on save template button. Open your blog and your new favicon should be visible in the address bar. [Originally published on Aug 14, 2008 – Updated on June 10, 2011]