XML Sitemap file is essential for basic SEO (Search Engine Optimization) of any website or blog. We have already covered exhaustive list of tools for creating website Sitemap XML file quickly. For Blogger, things are different as far sitemap file generation is concerned. Since Blogger is an online application, there are limited options for customizing its core functionality.
Default Blogger Sitemap file showing 25 latest posts
Google's Blogger by default generate RSS and Sitemap XML files for every blogspot blog. This auto generated feature does have limitation as it only shows latest 25 posts in the XML file. Here is how you can get your Blogger XML sitemap url.
Blog URL: http://tothepc.blogspot.com
Sitemap: http://tothepc.blogspot.in/atom.xml
RSS Feed: http://tothepc.blogspot.in/rss.xml
Replace tothepc.blogspot.com with your own Blogger blog URL. Then paste the sitemap url in Google Webmaster Tools for better indexing of your blog content.
Generate XML sitemap of complete Blogger blog
1. To generate XML sitemap showing all posted articles,  open this website and enter your blogger blog url. Then click on Generate Sitemap button. You should see new generated code at the top of the webpage.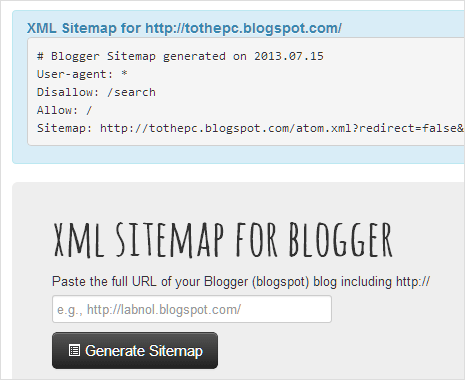 2. Copy that code and then login into your Blogger Dashboard. Goto Settings > Search Preferences option. Then click Edit button next custom robots.txt option. Then click to select Yes for "Enable custom robots.txt content" option.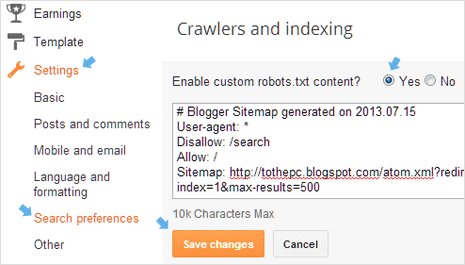 3. Paste the copied code in the box and click Save button. Use the URL in the above generated code as your default sitemap URL for Google Webmaster tools. As such, using this code in Blogger setting should be enough to make Blogger blog generate full blog's sitemap for indexing.