Option to add iGoogle Gadgets to Blogger blog has gone live on all layout blogs. Besides the 'Basic' options (like adding feed, header, html/javascript, video bar etc), now you can add any of the other available iGoogle Gadget.
They are neatly categorized as news, tools, communication, fun, finance, sports, technology and lifestyle. You can also browse Google Gadgets by featured, most popular and newest.
With thousands of Google Gadgets available in the directory, you can make life easy by using search box at the top right part of the 'add a gadget' window.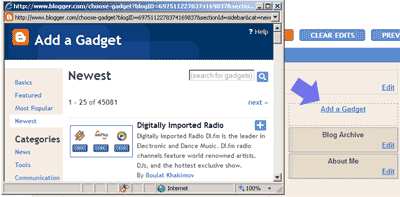 To access 'add a gadget' window, click on 'layout' tab and then check for option 'add a gadget' under 'page elements' tab. Select the gadget of your choice and add it to your Blogger Blog in few simple clicks. Ready to spice up your blog?