GeoTagging is a new Blogger feature that allows you to add location to any Blogger post. Like we have timestamp (meaning specific time of publication of each Blogger post), we can specify location of each post as per its content.
This is ideal for travel blogs where you can geotag the country or region related to post content. To use this Blogger in draft feature goto draft.blogger.com and login into your Blogger account. Then click on 'create' button and click for 'add location' button next to 'labels' bar.
Click on 'add location' will bring up a pop window loading Google map. You can manually select the location or use the search bar. As pointed by Blogger blog, each post's location will be included in blog RSS feed using georss.org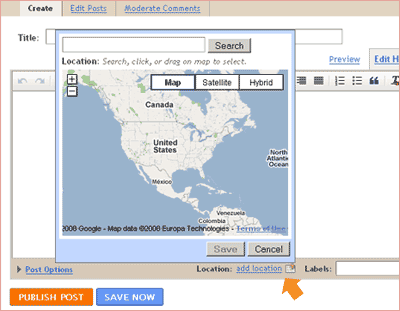 They have also introduced a gadget to display geotagged posts on a map. For this goto Layout > Page Elements > Add a gadget. Then click on 'add your own' link on left sidebar in gadget popup window. Add this URL [http://dev.brianngo.net/ig/bloggermap.xml]. Useful feature for few Blogger blogs wanting to show location related to each post – ideal for travel blogs!