Blogger team is on the roll introducing new cool features every now and then. After embeddable comment form, star rating feature here comes 'Reactions'.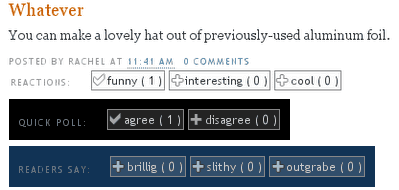 With 'reactions', you can get one click feedback from readers of your blog. Blog visitor just need to click either of option available to vote up – no logins or sign ups required (that's cool).
You can customized options for 'Reactions' on your blog. Here is quick procedure to setup this feature on your blog.
Login into blogger account using http://draft.blogger.com
Go to 'Layout' > 'Page Elements'.
Click on 'edit' button on the blog posts area.
Check mark the reactions option to make it appear on your blog.
You can click on 'edit' button next to reactions to change options. Since you can only vote UP reactions, provide both positive and negative option for users like Good – OK – Bad
'Reactions' for sure is a neat and intelligent feature and every Blogger user can give it a test drive using above procedure. You can also customize the look of the 'reactions' box. More at official blog post.