WordPress always had good looking themes which are now spilling over to Blogger. Typebased is a free WordPress theme from premium WP theme club WooThemes.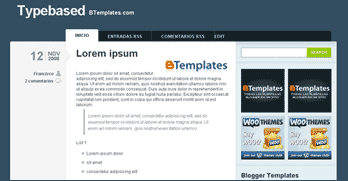 Besides download and use of free WordPress theme, Blogger version is also available now. Btemplates (best source of Blogger templates) has converted this cool looking WordPress theme into Blogger template.
Typebased is a simple and very classic looking theme. It has subtle colors ideal for personal and even professional blogs. Grab it free for your WordPress or Blogger blogs!