By default, we need to follow specific Twitter user for it to have ability to send direct messages to you. In more simple words, to able to send and receive DMs (Direct Messages) on Twitter both interacting users must follow each other. This is not required anymore. Now you can receive Direct Messages from any Twitter follower irrespective of you following that user or not.
Enable Receive direct messages from any follower option
You need to enable "Receive direct messages from any follower" option in Twitter settings. Once this option is activated any of your follower can send you direct message. It does not matter whether you follow that person or not.
1. Login into Twitter account at twitter.com website. Click on Gear button at top right and then click on Settings option in the menu.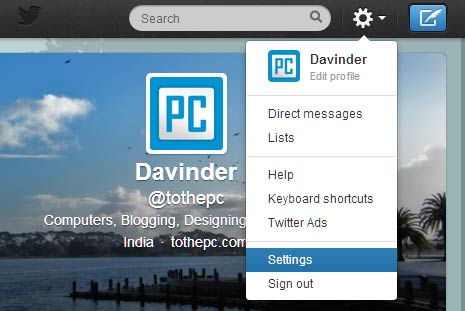 2. Scroll down while on the "Account: Change your basic account and language settings" page and look for Messages section at the bottom. Click to check (tick to enable) "Receive direct messages from any follower" option.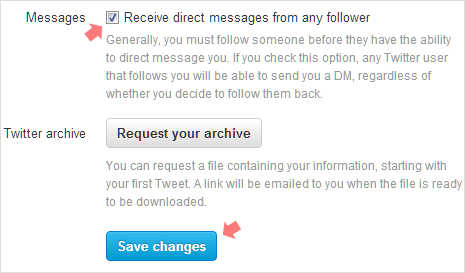 3. Click Save Changes button to confirm this settings change. This should allow more private interactions on Twitter as now any of your Twitter follower can send you Direct Messages visible only to you.
Video: Enable DMs from all Twitter followers
If more Twitter users activate this feature, it should become very useful for businesses on Twitter. They can send special coupons and deals information privately to users without having to follow each and every follower.