Do you want change existing username of your Twitter profile? You can easily make this change from settings page of your Twitter account. However, you need to know the difference between Twitter name and username (also called Twitter handle). For example 'Davinder' is the Twitter name, while 'tothepc' is the username (twitter.com/tothepc).
Modify & update Twitter username
1. Goto Twitter.com and login into your account.
2. Click 'Settings' link at top right.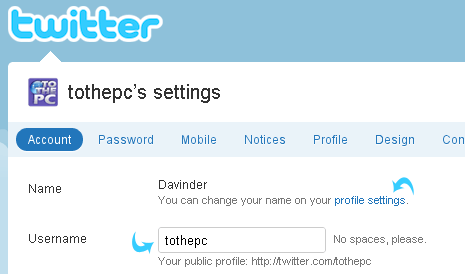 3. Enter new username in the text field next to 'username'. If you want to change only name and NOT username, then click 'profile settings' link to update name of your Twitter profile.
Change Twitter name or username?
If you are updating only Twitter name, then there should not be any issue. However, if you have changed your Twitter username (for example: from tothepc to tothepc1) – then your Twitter profile URL will also change (from twitter.com/tothepc to twitter.com/tothepc1)
In this case, you need to inform your Twitter friends to send all future replies, mentions, DMs on new twitter username. All the tweets for old username will no longer be associated with your new Twitter username.