If you cannot get over Twitter addiction and use Microsoft Outlook on office computer all the time – then OutTwit application is for you. It allows you to remain Twitter addicted within Outlook application. You can perform basic Twitter chores within Outlook interface keeping every thing foxly hidden.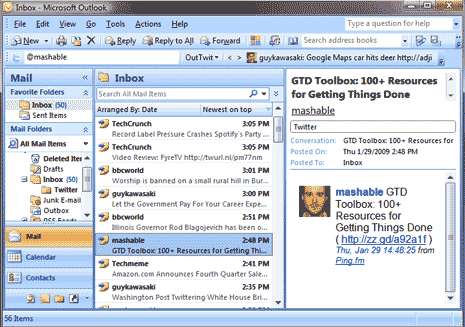 Related – Use Twitter at Office work, disguised as MS Excel
You can receive Twitter friend update in Outlook and update your Twitter status from within Outlook. There is more: you can archive, manage, group and search your tweets the same way you manage your email. You can assign custom folder and categories to new messages.
You can use Outlook's "Reply" and "ReplyAll" commands to send twitter direct messages and @replies. It also shortens URLs with TinyURL service. Download OutTwit and integrate Twitter within Outlook – you will never miss Twitter while you attend important emails in Outlook, ok?