Twitter addictions can get you fired if you are using Twitter during office time. If your office does not allow use of Twitter but you still want to use it (can't help it) – then you could be little safe by accessing twitter using SpreadTweet. This software mimics looks of Microsoft Excel, so anyone looking at your work computer will think you are still working on Excel file.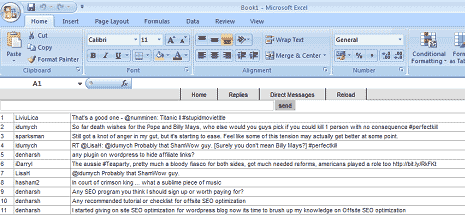 Related – Access Blocked Files at Office with 'Download at Work'
It is available for Office OSX, Office 2003 (Windows) and Office 2007 (Windows). You can choose the version for respective Microsoft Office installed on your office computer. It is an Adobe Air application, hence you need to install Adobe Air on the computer.
However, if smart IT guys at office has blocked installing of any software, try the web based version that does not require any install. SpreadTweet [via] is a cool way to trick and use Twitter at work. Caution: someone might still catch and fire you – be safe while you tweet!