Are you driven away by the social networking sites like Facebook and Twitter and cannot stay away from account updates even for a while? So lets collaborate them all into one big platform Gmail, which now paves way to integrate such websites into one place. Now surf Facebook and Twitter simultaneously while reading your emails withing Gmail inbox.
Add Twitter, Facebook gadgets in Gmail
1. Open & login into your Gmail account.
3. Then goto Settings > Labs
4. Click "Add any gadget by URL" and enable it. It is located at the bottom of the page.
5. Then click on Gadgets tab under settings and add the following URL to add Facebook gadget.
http://hosting.gmodules.com/ig/gadgets/file/104971404861070329537/facebook.xml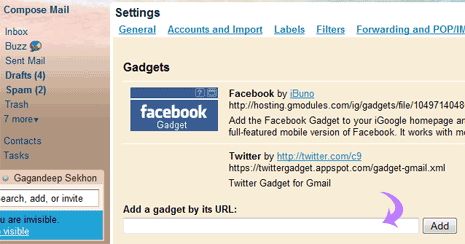 Similarly to add the Twitter gadget add the following URL.
https://twittergadget.appspot.com/gadget-gmail.xml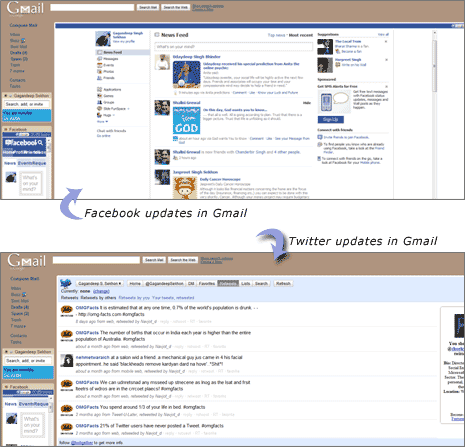 There you go! Now both the Facebook and Twitter gadgets are all set. Now you can anytime check your status , tweets, wall posts with just a click away from your Gmail.