Besides sending regular updates or tweets from Twitter account, number of user you follow and number of users following you back is also important. We have already seen how to check Twitter users that you follow but do not follow you back. Here is an easy way to find out Twitter user you follow and also follow you back on Twitter.
Check Followed users following back on Twitter
1. Goto Twitter.com & login into your account.
2. Click 'Direct Messages' button on the left side.
3. Then check list of Twitter users in drop down box at the top.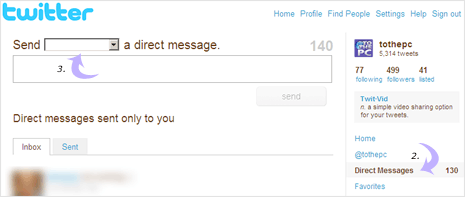 These are Twitter users you follow and also follow you back – as by default, direct messages can only be sent if you follow and get followed by a specific Twitter user. Easy, isn't it?