Feedburner has been quiet (feature wise) ever since Google acquired it. Finally, Google has added a new feature to Feedburner service that allows you to publish RSS feed of your blog or website to specific Twitter account automatically. You can customize text, hastags for automatic RSS feed tweets. Here is the simple procedure:
Publish RSS feed on Twitter with Feedburner
1. Open http://feedburner.google.com & login into your account.
2. Click on RSS feed listing of your blog or website.
3. Then click "Publicize" tab & then click "Socialize" option on the left menu.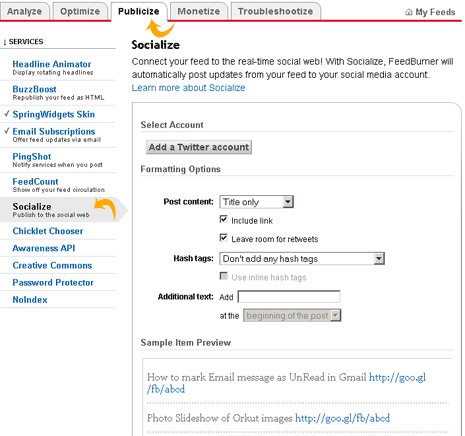 4. Click "Add a Twitter account". Login to authorize Twitter account.
5. Customize options for tweet content for additional text, hastags, item limit, keywords filter and more.
You can also see preview of tweets at the bottom of  settings webpage. This feature does not use tinyurl or bit.ly URL shortener but use Google's all new URL shortener goo.gl (so now you know, why we see this feature). Still a handy and neat feature for sending automatic tweets of blog RSS feed, try it! [via adsenseforfeeds]