You can mute long conversations that do not interest you to prevent them from showing in inbox. Mute Gmail messages feature help keep inbox clean and free from unwanted conversations from appearing. Further, you can unmute any muted conversation thread and move it to inbox. However, for this you need to search and view only muted messages in your Gmail inbox. You can easily do this using search keyword for muted messages.
View muted conversation in Gmail inbox
1. Goto Gmail inbox after logging into your account.
2. Type is:muted in search bar at top left and press the Enter key.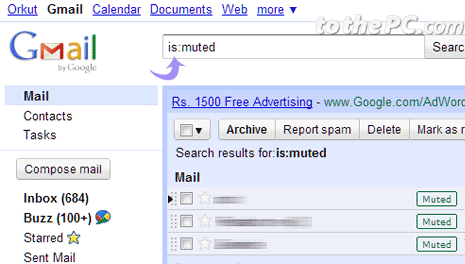 All message conversation previously set to mute status will be displayed. You can click through to unmute messages of your choice and move them to inbox.