Windows Vista has lot of visual feature but feature of adding a background image to a folder is missing. However, there is a small utility that integrates and bring alive this feature in Windows Vista.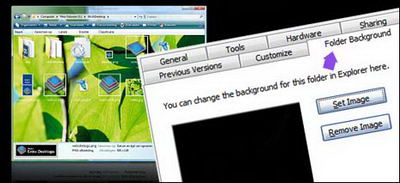 'Vista Folder Background' utility allows you to add any background image to explorer folders. After installation, right click on the folder and then click on properties option. In properties window, you will see a new tab option 'Folder Background'.
Using 'set image' and 'remove image' buttons you can set any background image to a folder. You can [ download ] this utility for free.
Besides being free, this utility is very lite and does not hog system resources. It keeps Vista happy and you happier with your favorite image as folder background!