Collage is a fun and creative way to showcase your personal and professional photos. With so many photos shared on social media websites like Pinterest, Facebook, Instagram, Google Plus, Twitter – photo collage is an interesting way to grab attention. Also, with better camera in smartphones we can capture any moment anytime and collage just makes the whole visual more beautiful. Following are few free online tools and free software for making creative photo collages.
Free online tools to make Photo Collage
1. Get Loupe is a relatively new web app for creating photo collages. This online tool for photo collage making is easy to use with neat user interface. Just select source of your photos like from Instagram, Facebook, Google Drive or load professional images from 500px.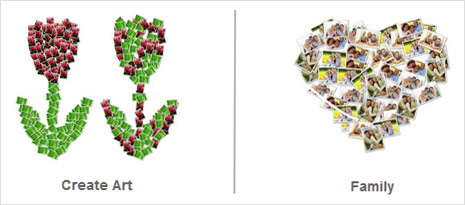 Then select shape of your photo collage and arrange photos as per requirements. Within few seconds, a beautiful photo collage is ready. There is also a gallery section to check out creative collage made by other users.
2. PhotoVisi allows you to create collage from photos stored on your computer or clicked from webcam. This online tool follow simple collage making procedure: select collage design, upload photos and save your final photo collage. As expected, there is gallery of photo collage creations by other users.
3. PhotoBoxxy online tool focus on creating special type of box shape photo collages. Minus all curves, there are number of collage templates with boxy design including: squares, rectangles and grid shapes. Users wanting to create collage from Facebook photos will love this due to its smooth integration with Facebook.
Free Photo Collage making software downloads
1. Picasa from Google is very flexible image editing software with lot of sharing options. It also has dedicated photo collage making feature. Select photos as displayed in Picasa software and then click on Collage button on the Photo tray.
Then customize collage style among various options like: Picture Pile, Mosaic, Grid, Contact Sheet, Multiple Exposure and much more. Your photo collage should be ready in no time.
2. Shape Collage is another simple photo collage making software. Free version provide access to majority of collage maker's features like custom shapes, high resolution and advanced editing options. Free version of software adds watermark on the final photo collage. If you do not like that part, then using Picasa is a better option or your can upgrade to pro version of Shape Collage that leaves no watermark.