There are number of online service to create websites, however not many options are available if your are looking to create a 'Flash based website or content' Well, here comes a very good and free option to create flash based websites online 'Wix'
Using this service you can create websites, blogs, greeting cards etc. You do not need any design or programming experience to use it.
Besides, it has easy to use with 'Drag and Drop' functionality.You can also upload graphics from local computer or integrate content from Youtube, Flicker, facebook etc.
Publish– You can publish the content created by Wix anywhere you want to. You can publish as standalone site or embed into any site, social network or blog.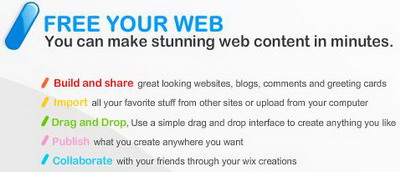 Free – Wix is free for all the users, however some very advanced features may go paid in future.
Need– Well, you can create that so difficult Flash content on the fly without any professional know-how. Also content created with Wix work with search engine as Wix is XML based. Let lose your creativity, start designing or creating!
Wix : Wix Website
This service is Beta as of now, however you can easily get an invite by submitting your name and email address.