Microsoft was thumping ahead with Windows Vista in all hog manner and even got Windows website in Vista colors with 'Aero glass effect'. Guess what? MS is bored of Vista look and here comes new look for Windows Websites.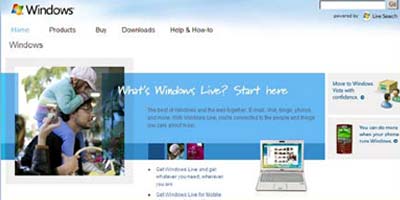 This new look reminds of old blue clouds look. It has nice blend of white and blue colors. Besides the new look, website loads very quickly.
Here is funny part of Microsoft losing love for Windows Vista: As pointed by WinVistaClub, move your cursor over "What's Windows Live? Start here" and notice the status bar of your web browser. It will show URL containing words 'BAN_VISTA".
Looks like Microsoft got too over-board in trying to remove bugs and bugs from Windows Vista and want to ban it all together. Ha! little fun to jumpstart your day, what say? Checkout New Look MS Windows Site