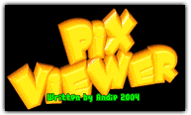 What is the purpose of using an Image viewer?Obviously to view images with ease and that's it! There are number of Images viewer software or suite with huge number of features and options to make you mad at first go.
Here comes relief in the form of 'Pix Viewer'. Yeah, this could be easiest and most simple Photo Viewer ever. No installation required, just download the EXE file and drop that file in the folder containing images.
Double click on the Pix viewer EXE file and you can view all the images in that folder. You can also preview images full screen by clicking on image name of the left window pane. Besides you can also run slideshow of images and configure time option for the slideshow.
It is very useful while burning images to a CD. You can burn Pix Viewer EXE file along with images in a folder on a CD. So, to view images on the CD just run the pix viewer located on the CD itself.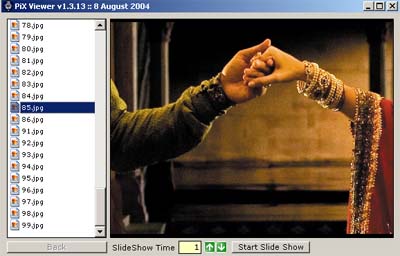 PixViewer: Website – Download 
Also, no memory hogging issues with this program, it being so small (89Kb). I am already hooked using this excellent piece of software and you?