UnderCoverXP is a cool program to print pre-designed CD and DVD covers with ease. It supports number of cover labels and cover types with option to create custom size labels.
It can automatically scale front covers, back covers, front + inside, inlays, DVD Boxes, Playstation covers and CoolBela LD001 labels to the correct sizes. It supports standard image formats like JPEG, GIF, PNG and BMP.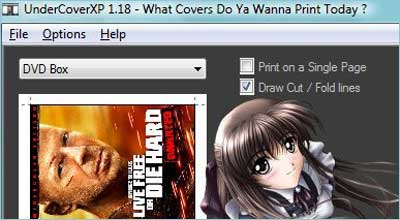 Besides few options to customize cover, you can see live preview as they appear on actual cover before you send it for quick printing. It does not allows you to design own covers but it does have number of pre-designed covers.
Download UnderCoverXP [link] to make CD cover printing process simple and easy. It is available in 25 languages and also works fine on Win Vista.