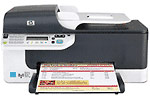 Printing can be expensive and resource hogging routine. Besides minimizing print ink usage by using various methods of font & size, you can also minimize paper usage through duplex printing method. It involves printing on both sides of the paper. Make sure you check if  Duplex printing support is available on printer you own.
Print both sides with duplex support
If your printer has in-built support for duplex (both sides) printing, then you can easily print on both sides of the paper by configuring settings.
1. Goto Start > Printers & Faxes.
2. Right click printer listing & click properties option.
3. Then goto Advanced tab & click Printing defaults button.
4. Select option 'print on both sides' under document options.
These settings may be different as per type of printer installed on the computer. If you do not have duplex support, then use manual duplex method for both sides printing.
Print both sides using Manual Duplex
1. Goto File > Print.
2. At bottom left, click Odd pages & click OK.
3. After odd pages are printed, flip the pages stack and then print even pages.
This can be confusing while printing lot of pages. Test drive this method with 4-5 pages to find comfort with manual duplex printing.