We tend to install number of fonts over a period of time nd hence computer could be loaded with lot of favorite fonts. Managing and selecting among lot of fonts is not easy. "Print My Fonts" is an interesting and very useful program for dealing with loads of fonts.
It allows you to print text, number, characters in specific font and the font name on paper for easy reference. You can print few or all fonts preview text on the paper.
Features of Print My Fonts program
1. Print output of any font along with font name.
2. Goto Tools > Advanced to set font size, style & margins.
3. Live preview all fonts in the application window.
4. Shows total number of fonts installed on the computer.
5. Select among different alphabets, numbers & character for print.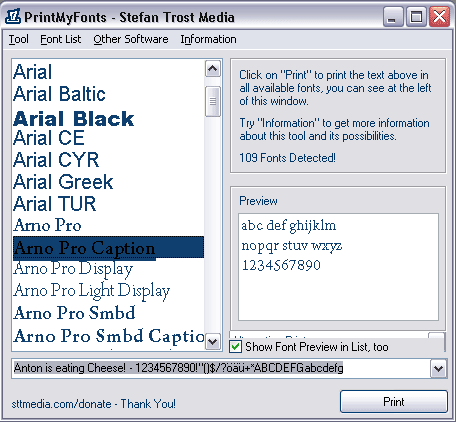 Also See – 15 websites to download free fonts
Download Print My Fonts, it is fully portable and does not require install. Besides printing, it is one quick way to preview all the fonts installed on computer in one view. One handy tool for designers, developers and web users dealing with lot of fonts.