Do you love downloading lots of images from the internet? Ideally we open image search website like Google Image search, then type a keyword and make few more clicks to download final image. You can avoid all those clicks and download images directly from the comfort of desktop without opening web browser using free utility Mediarachnid.
Direct photo download from desktop
1. Download Mediarachnid & open the program (it is a portable program and does not require installation).
2. Click to select source for downloading images. You can direct download images from Google Image search, DeviantArt.com and 4Chan.com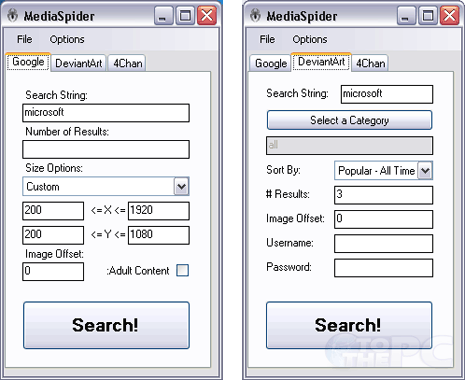 3. Enter the search keyword for specific type of images. Also enter number of results (keep the number low say 5-10 as this program will download full images for specified keyword).
4. You can also configure size options for matching size image download. DevianArt image download has more options like login, sort by popular images.
5. After selecting options, click the search button. You will get prompt to select a folder where downloaded images will be saved.
This tool will automatically download full photos in specified folder. You can download as many photos as you like from Google Image search, DeviantArt.com and 4Chan.com – ready for download?