Do you want to quickly convert movie video file into podcast for your iPod? PodcastHelper is a simple portable tool for such conversion. It allows you to convert video file into M4V or MP4 format using easy to use 'drag ad drop' interface. Final created file is in iPod-compatible podcast format.
Convert Video to Podcast for iPod
1. Download PodcastHelper program.
2. Unzip the file, double click to launch the utility.
3. Drag and drop file into application window.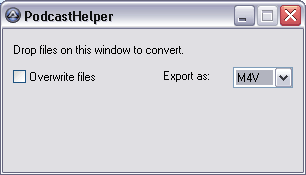 4. Select overwite files option & export as format among M4V or MP4. This utility will convert video file into specified format ready to be played on your iPod device.