CSV (Comma Separated Values) is a popular text-based tabular file format. If you deal with lot of CSV files on daily basis, how about carrying portable CSV Viewer in your USB drive? CSView is a light weight and free portable CSV viewer that neatly display contents of any CSV file.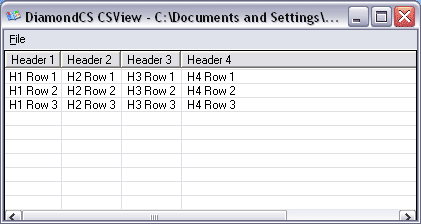 Features of CSV Viewer
1. It is lite in size (40k) & is portable.
2. Has easy to use simple interface.
3. Support sortable and resizable columns.
4. You can save the display as a HTML file / BMP image.
5. Also supports XCSV format (compressed CSV).
6. Allows direct printing of CSV files.
Also See – Convert XLS to CSV file format
Dwnload CSView free portable CSV viewer to easily open and view content of any CSV file. After download of zip file, unzip to extract content of zip file and then double click CSView icon to launch the viewer. Handy and very useful on the go.