Copying text from websites or highly formatted documents using usual copy (Ctrl + C) and paste (Ctrl + V) routine, brings along all the unwanted text formatting. This may include text with different font size, colors, images, tables, borders etc. Plain Text is a portable utility that allows you to follow same copy – paste routine with cool option to paste unformatted text with different keyboard shortcut key (Win + V).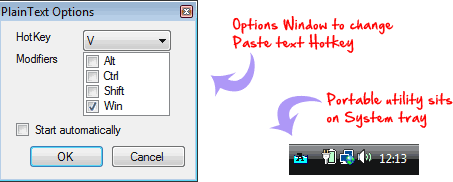 To get started, download Plain text utility and double click to launch it (no need to install). It sits on the system tray and is ready to be used. For example, you  can copy text using Ctrl + C (or right click copy button) and instead of using Ctrl + V to paste formatted text, use Win + V to paste unformatted text. See following screenshot showing same text as formatted and unformatted.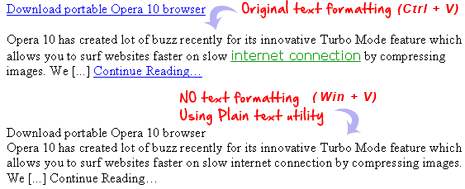 Related – Remove text & character formatting from email text
You can right click on Plain Text icon on the system tray to open "options" window. There you can change the paste text shortcut key. You can also check the option "Stat plain text automatically" to make it load automatically at Windows start. Plain text for sure is one handy and very easy to use utility to grab unformatted text from any webpage or document.