We often copy text from webpage and save them for future reading in the form of word documents. By default, text formatting like font size, style, color also accompanies copied text in the final document. There are utilities that strip text formatting from clipboard text on Windows and MAC OSX systems. Copy Plain Text plugin adds this functionality directly to Firefox browser.
Copy plain text without formatting in Firefox
1. Download & Install Copy Pain Text Firefox addon. After the install, restart Firefox browser. It will autmatically add new "Copy as Plain Text" option to right click menu of Firefox.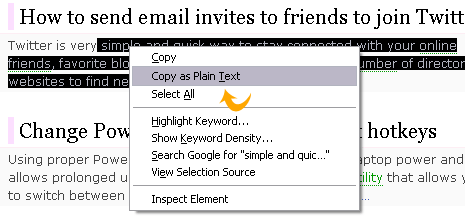 2. Open any webpage, select text with mouse and right click. You will see new option "Copy as Plain Text". This option will allow you to copy text without any formatting. Simple and easy, what say?