Do you want to want to paste copied text without formatting or with different formatting style? Microsoft Word 2010 'Paste options' allow you to paste text in different formatting styles with ability to preview before final paste. This makes easy copy – paste of text between tables from Web pages, charts and graphics from documents, presentations, or workbooks and other content from your notes or email messages.
Use Paste Options in Word 2010 documents
Goto to Clipboard group on the Home tab and then click arrow under the Paste button to see Paste Options. Over over different paste options to live preview paste text formatting before finalizing the paste text action.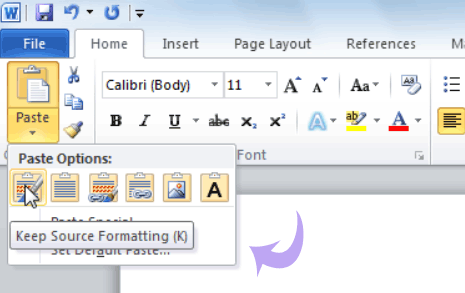 You can select and use either of paste options including: Keep Source Formatting (it retains original copied document formatting in the paste text in Word document), Merge Formatting (it will merge formatting of copied document with formatting of document where text paste is done), Keep Text Only (removes all formatting in the paste text), Use Destination Styles (removes original document formatting and use formatting of document where your paste text).