Just like Microsoft Office 2007, the newer version of Microsoft Office Word support docx file format for documents. By default, this file format in not supported by older version of Office software (2003 & below). Incase, you want to open Word, Excel or PowerPoint documents created using MS Office 2010 program in MS Office 2003, 2002 or 2000, then there is easy workaround for file format support.
Download free Office compatibility Pack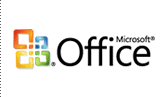 If you use MS Office version older than Office 2007, then download compatibility pack for Office software installed on your computer. After installation, you can open Word 2010 documents that were saved in .docx and .docm formats. Please note, you cannot open Word 2010 template files that were saved in .dotx or .dotm format.
Also there could be missing features like: macros and macro signatures will be removed, mail merge data is lost, password protected files wont open (even when you know the password). However, with compatibility pack you will allow to open basic version of Word, Excel, PowerPoint documents created using Office 2010 in MS Office 2003 & below.