Ribbon interface was added to Microsoft Office 2007 and was carried forward with Office 2010. Users upgrading from MS Office 2003 to 2007 saw the huge change in user interface as a result of ribbon addition. While it is useful in tabbing different options in more neat manner, few users were overwhemlemed with galore of options. With familarity of using old style top menu, Office ribbon became eye-sore and confusing for many users. If you are yet to get familiar with various options in ribbon interface, then check 'search command' that brings goodnes of ribbon interface in the format you expected (probably).
Download 'Search Commands' addon: Office 2007, 2010
'Search Commands' is free addon for Microsoft Office 2007 and 2010 users. It adds a new tab to ribbon interface containing a search box for searching commands. You can type keyword to instantly get specific option on the ribbon interface without manually looking for it on ribbon or top menu options.
1. Download Search Commands addon for Microsoft Office 2007 or 2010 on your computer with Windows XP, Vista or 7 operating system. It only supports English language and works with Word, Excel and PowerPoint applications only.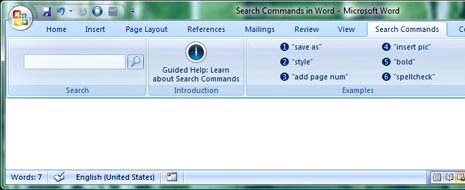 2. Once the installation is complete, you should see new tab in ribbon interface with 'Search Commands' title. There will be a search box at extreme left on the 'Search Commands' tab.
3. Enter any word in search box to get releate option on the ribbon interface. For example: type bold to get text bold option immediately.
Video Demo: Command Search Box in MS Office
http://www.youtube.com/watch?v=Sqi9ZvSLYao
Similarly, you can type and easily get option you are looking for in the ribbon interface. For sure, it eliminates need to learn various options of ribbon interface – when you can easily search and find using 'Commands Search' addon.